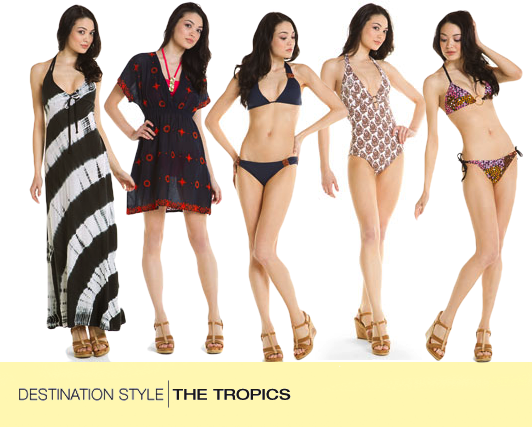 Them snow has melted and the sun is shining time for a wardrobe overhaul! Put away the down ski coats and it's bikini season. Check out Destination Style: The Topics sale today on RueLaLa.
Bikinis, one pieces, coverups and maci dresses from Letarte, Debbie Katz,& Anika Brazil.
Plus new member if you join now you can receive a free $20 credit,
join RueLaLa today!
Todays listing of online sample sales:
BeyondTheRack.com: Premium Watch Event, Marimac, Lacoste Handbags & Accessories, Milk Denim, Ausiie Boots, Report Signature, Daytime Chic, Suzi Chin and More, Koolaburra, Pretty in Pearls Collection, Tiana B, Jessica Howard and Glamour, Beyond Loungewear, Petit Bateau, Frette Couture
Billion Dollar Babes: Carilyn Vaile, ABS Jewelry
Biva: Sisley Fragrances, Davidoff Fragrances
EditorsCloset.com: Fendi & Tom Ford Sunglasses, Proenza Shouler
Enviius.com: Onna Ehrlich, Dufonte Kids Watches, Claire Newell Travel Collection
Eziba: Shades of Turquoise, Sango Dinnerware
Exclusively.IN [from India w/ love!]: Dia – Calcutta Calling, Digital Art Saris By Color Saga, Anushka Khanna, Soranam Jewelry & Black Pepper Home, Kavita Bhartia Runway
Gilt.com: Converse, Fine Jewelry by Maharaja by Amrita Singh & Umlaut by Azaara, GF by Geren Ford, Gilt's Stylebook: Spring Fashion Trends, Trina Turk, Trina Turk Handbags, We've Got Your Shoe Size
Gilt Men: 2(x)ist, Esquire Home Collection, Hickey Freeman, Meadowood Resort – Napa Valley, Michael Kors Collection, Shoes! Shoes! Shoes!, Thompson of London Cufflinks and Accessories, Tommy Hilfiger Suiting
Gilt Children: Olive Juice Kids: Apparel for Spring, Spring Dresses from Pippa & Julie and Laura Ashley, Wallcandy Arts: Removable and Reusable Decals
Gilt Home: Esquire Home Collection, Nandini Pillows, Sisal Rugs, Teaposy
JOIN GILT CITY! Don't see your city? Don't forget Groupon or any of these other sites like Groupon!
HauteLook.com: Donald J Pliner, Thro Outdoor by Marlo Lorenz, Stein World, Carlo Viani, Schoenhut, Peter Lamas Hair Care, Men's Duffels, Messengers & Wallets, Sue Wong Dresses, The Fontainebleau Miami Beach, Donald J Pliner Men, Time for Spring, Right Bank Babies, Dunton Hot Springs Resort, N-Fini Shapewear
ideeli.com: Local Celebrity, L'Erba, Calvin Klein, All Tied Up, Cosmesis Skin Care, Eye for Style, It's a Wrap, Da-Nang, Honeydew, Calani and Versace, Da-Nang, Nuloom Rug, Joe's Jeans, Eva Franco
IvoryTrunk: New Arrivals: Dior
JackThreads.com: Mosley Tribes, Gravis, Makia, Sneaker Keychain, DyOn
Jetsetter: Windstar Cruises in Europe, Hotel Brunelleschi Florence, Grand Hotel Tremezzo Italy
Joss&Main: Jill Rosenwald, Cunill, Port 68
Kembrel: Marais
Modnique.com: Etica & Eterna, Presidential Suite, Melie Bianco, Athena Alexander & Callisto, FPJ, Swiss Army, William Rast
NoMoreRack: 8 new Sales start at Noon!
OneKingsLane.com: ABC Carpet & Home – Natural Fiber Rugs, Forgotten Shanghai – Asian Occasional Furniture & Accessories, Better Living – Bright Pillows & Throws, ArteHouse – Wooden Signs, Villy Custom – Personalized Beach Cruisers, Thymes – Botanically Enriched Toiletries
Plndr: Fei7, Castlebury
PureCitizen: Blue Canoe, Jonano
RueLaLa.com: Skagen Denmark, Skagen Denmark – Men's, La Fiorentina, Destination Style: The Tropics, A Rue Spin On: Yoga Essentials, We're Loving: Earth Day at Home, Tres Luxe: Tour French Wine Country
SeenOn: A Royal Private Sale
ShopLikeKings: HUF, Mighty healthy
SniqueAway [TripAdvisor's Travel Sales]  Kimpton Hotels & Restaurants – New York, NY, Amsterdam Manor – Aruba, Red Mountain Resort – Ivins, UT, Moorea Pearl Resort & Spa – French Polynesia
Swirl: Tea Time, Eze Sur Mer
TheFoundary: Earth Pan, Floor Patterns, Teters, The Elements, Weekend Indulgence
TheMiniSocial: Blue Orange Games, Kiwi Industries, Global Green Pals, Nohi
Totsy:  Sacs of Life, Baby Beehinds, Small Plum, Eco Jr., Kinderville, Klean Kanteen, BabiLayers, Bumkin Organics, Cate and Levi, Bear Hands and Buddies
VoyagePrive: Bhutan Trekking & Rafting, 5 Star Greek Mansion, Roman Retreat, Marvelous Seville, Romantic Rhine
Zulily [For Mom, baby & kids!] 191 Unlimited, Tailgate Kids, Born 4 Couture, CR Kids, Coccoli, Lil Bowtique, Pampili, Tailgate Infant& Kids , Imoshion, Dust Bunnies, YBIKE, GeoToys
Brought to you by Fashioninvites.com <3
Vist our Directory page for more sample sale links.
Images from Ruelala