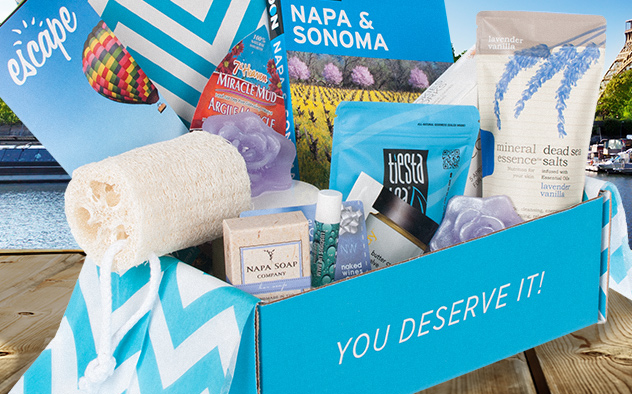 Need an escape? How about every month?
Maybe you can't travel to new places all the time, or treat yourself to a day at the spa but what if the spa and the destinations came to you?
EscapeBox is a unique monthly subscription box club that offers a monthly relaxation experience in a box filled with products surrounded around a single destination each month.
Plus, each month one lucky member will win a vacation to the current month's theme – two nights accommodations and airfare, up to $1,000. Winners are announced on Facebook and in the next month's box
Recent boxes have included destinations such as Oregon, Napa Valley and Hawaii. Products that have been included in the boxes have included Moon Travel Guidebooks, loofahs, candles, soap, bath salts, mud masks, lotions and other spa themed items and treats from each destination.
The Hawaii box included: Moon Guidebooks: Big Island of Hawaii Guide, bath scrubs, lotions, tea,  and Hawaiian treats like chocolate covered macadamia nuts, mango and more.
"Everyone Deserves an Escape Every Month – That means YOU! Life is stressful, and it's hard to schedule the time we all need to relax. But what if you got a care package in the mail every month, designed specifically to help you DE-stress and escape from the chaos of every day life?"
Cost: $49.95/month ($39.95/month with coupon code).
Coupon: Use coupon code YOURESCAPE to save $10 off every month for the life of your subscription
Shipping to: US customers only.
Your invite to sign up, click here: EscapeBox
What do you think of EscapeBox? Let us know what you think and share photos of your boxes with us! 🙂