Todays listing of online sample sales:
 BeyondTheRack.com: Designer Vault handbags, Designer Vault Accessories, Fabulous Frames, Eyewear, Boots as low as 19.99$, Boots, Footwear, Shoes under $29.99, Footwear as low as as 19.99$, Handbags, Handbag Heaven, Seasons Collection & More, Warm Elegance, Be Dinner Party Ready, Art Boutique, Men's Businesswear, Men's Casual Shirts, Men's Tops, Men's Pants, Outerwear, Winter Wonderland, Sweaters, Warm & Cozy part 2, Warm & Cozy, Bold & Beautiful part 2, Bold & Beautiful part 1, Rock Out in Style, The Little Black Dress, Black & White Collection, Designer Dresses, Dresses Under $39.99, Steal the night, Ladies' Tops, Cocktail Dress Collection, Casual Cool part 1, Ladies' Tops as low as $24.99, Casual Cool part 2, Down to Business, Marvelous Minis, Denim Crush, Denim
Biva: Azzaro Fragrances, Lancome Fragrances
Estile: Popark Winter Coats, Lord Elgin Hotel
Exclusively.IN [from India w/ love!]: Nicobar
Fab: Buckyballs & Buckycubes – The Addictive Magnetic Desk Toys, Wheatpaste Art Collective – Stickable Wall Design, Diseño Sistudio Lighting – A Hunter's Wall, Redefined, Valentine Viannay – Drying Dishes with Wit, Cat House System – Modernly Modular Cat Boxes, Purcell Living – Designs With Character, Tribal Toys – Designer Toys with A Message, Print Brigade – Expressive Message Tees, Perseus Books – Crafty Children's Books, Samantha Hahn – Original Watercolors and Prints, Vermont Farm Table – Solid Wood Rolling Pins and Boards, Shilpa Rathi – Organic Kalamkari Textiles
Gilt.com: Layer Up: Chic Winter Styles, Giftable Treasures: Jewelry Stocking Stuffers, Last-Minute Holiday Finds, Sunday Night Steals: Apparel & Accessories, Missoni Shoes, Skip Hop Diaper Bags, Bedding & More!, Stocking Stuffers on Park & Bond
Gilt Men: Tailgate Sunday: Hoodies, Jeans & Sneakers, Last-Minute Holiday Steals, , Stocking Stuffers on Park & Bond, Latkes for Your Holiday Celebration
Gilt Children: Last-Minute Gifts: Heidi Weisel & More, Skip Hop Diaper Bags, Bedding & More!, Stocking Stuffers: Emi-Jay Hair Accessories, Travel the World With Miroslav Sasek's Classic Books for Children, Zoobies, Image Canvas: Photo Art, Latkes for Your Holiday Celebration, yep yup: Pet Beds & Accessories
Gilt Home: Up to 75% Off: Archipelago Candles & Diffusers, Take on the Great Outdoors: Furniture, yep yup: Pet Beds & Accessories
JOIN GILT CITY! Don't see your city? Don't forget Groupon or any of these other sites like Groupon!
Closet Staples: Our Year-Round Picks blowout sale later today on HauteLook
HauteLook.com: Volcom, Rosena Sammi, Parisian Cottage, Finds: Urban Cottage, San Diego Hat Company Blowout, Hotel Deca Seattle, MICHAEL Michael Kors, Closet Staples: Our Year-Round Picks, Head To Toe: Dressing the Part, Carried Away: Chic Handbag Finds, Stylish Soles: Shoes For All Occasions, Play Time: Our Little Favorites
HomeSav: Dohler 'hotel quality towels & robes', Sarabeth's Kitchen
ideeli.com: boot up, career chic, charles jourdan, cinzia rocca due, elevated dressing, etienne aigner, evening elegance, jack victor, josh brody, l.a.m.b., lounge act, lovely people, r.j. graziano, rps addict, set the table, shop the look, suzi chin
JackThreads.com:   Matix
Jetsetter: Aqua Lotus Honolulu, Magellan Jets, Lodge at Turning Stone – NY,  Mantra Samui Resort – Thailand

Modern Alchemy on sale today on Joss&Main
Joss&Main: Signature Silhouettes, Safavieh Pillows, Zodax, Modern Alchemy, Mean Cards
Kembrel: Haight Ashbury
Modnique.com: TaTa Jolie, Issue Ny Dresses, Cocktail Jewelry
NoMoreRack: New Sales at Noon 
OneKingsLane.com: Barreveld International – FURNITURE & MIRRORS, Chic Canvas – CUSTOM CANVAS PRINTS, Thro – PILLOWS & THROWS, Country Kitchen – DINNERWARE, LINENS & GLASS, Love Your Dog – PET PICKS FROM JAX & BONES AND BARK 
Plndr: BLIZZARD SALES! 
PureCitizen: J Fein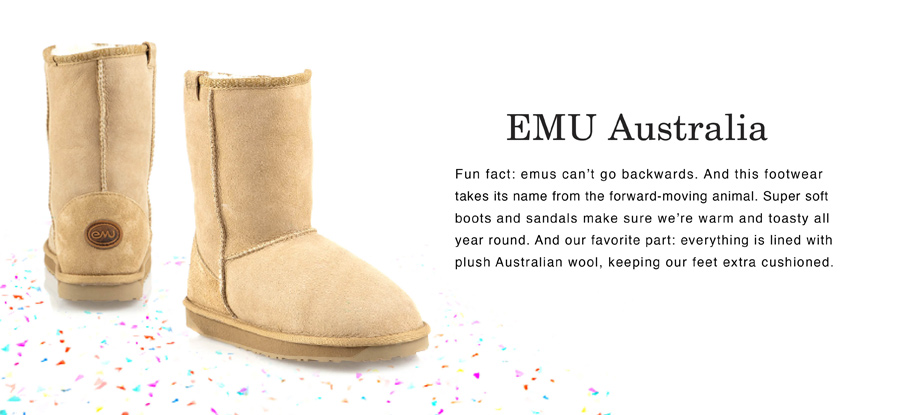 EMU Australia boots on sale today on RueLaLa, keep your feet warm!
RueLaLa.com: Roberto Cavalli – Accessories, Just Cavalli, Just Cavalli – Men's, EMU Australia, Paolo Bentini, Ike Behar, Ike Behar – Boys', Wittnauer, Blue Star Jets, Nite Tours VIP Club Crawl, Sunday Night Styleathon – Starts at 8PM ET
SniqueAway[TripAdvisor's Travel Sales]: Camel's Garden Hotel – Telluride CO, Copperstone Resort Hotel – Banff Canada, The Green Mountain Inn – Stowe VT
The Clymb: Greenlayer
TheFoundary: Designer Jewels, Glass Works, Luxurious Cotton, Uncommon Accents
TheMiniSocial: Civil Society
Totsy:  Vintage Snoopy PJ Event, Otopia , Swiss Legend , Blankid Buddy, Styles by Isabella Rodriguez, Molly West, ONeill Blowout, Simply Good, Baby Togs Blowout, ZaZou Handbags, Young Hearts Sets
Vente-Privee: LongChamp
Zulily[For Mom, baby & kids!]:  Sweet Heart Rose, DC Comics by DX-Xtreme, Almost Famous, Angels New York, Hello Kitty, Mooshu Trainers, Core Bamboo, Desigual Kids, Desigual Women, Michael Antonio, Jesse Maternity, Chocolate New York, Project Iris, Two Owls, Ciao Marco, Beverly Hills Polo Club, Sweet Dreams Collection, PIXELmoda, H. Maude, Charm'd, So Girly & Twirly, Micargi Industries, Inc., Dowling Magnets, Baby Chef, Em's 4 Kids, Art One, Kids Fly Safe, hauck, Blankets and Beyond
Brought to you by Fashioninvites.com <3
Vist our Directory page for more sample sale links.
Images from ruelala, joss and main, Hautelook