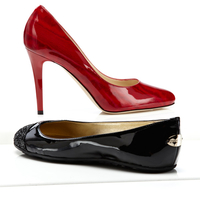 Jimmy Choo's on Ideeli
Today's listing of online sample sales:
BeyondTheRack.com:  Akribos XX1V/August Steiner/Joshua&Sons Marchesa StriVectin , Editors boot picks , BEST OF DOLLHOUSE , Editors picks Utex, Furi, Ellabee and more , Spicy Sugar and more , holiday gifts – fashion sweaters , Cozy Knits & Coats , Sophie B Lingerie , balance collection by Marika and more , Milano Sweaters , Get winter ready by Nana Knits , Rugged Bear , Mens dress shirts by Biscot , Stylish & Comfortable Bedding , Wine, whiskey & beer connoisseur , Jessie Steele , Vintage Rugs, Kilims and Pillows , Paula Deen's Kitchen , Luxurious Bath , The Best of Splendid at 12 , Luxury 1000TC 6 piece sheet sets & White Duck Down 5PM , Furniture Favorites-5pm
Biva: Chloe Fragrances, Guess Fragrances
Fab:

Nice – Untangle Your iPhone Cord
neo-utility – For Design-Minded Secret Santas
Miya – Cheery Bento Boxes And Dinnerware
Miya – Ceramic Japanese Tableware
Palladium Boots – Butt-Kicking Ladies' Boots Bad Ass Men's Boots And Shoes
Sitting Bull – Beanbags For Kids Big And Small
RUBR Watch – Colorful, Fun-Inducing Watches
Contego Eyewear – Cool Literary Lenses
ergoErgo – Get Fit While You Sit
COATT – Jewelry With A Secret Message
Mali Handbag – Luxe Handbags For Day To Night
Zero Gravity – Clever And Cool iPhone Cases
Yale University Press – Fashion Books
Pure Fiber – Luxe Towels, Sheets, And Robes
Julie Nolan Jewelry – Heavenly Constellation Jewelry
C-IN2 – Men's Sexy Skivvies And Shirts
Viktor Hertz – Prints & Calendars Rebrand Culture
National Geographic – Subscribe To Worldly Exploration
Albie Designs – Playful City Prints
CC SKYE – "It" Girl Jewelry For All
Merrell – Books Of Art, Design, And More
Material ConneXion – VIP Access To Material Resources
Madera Home – Furniture With Asian Ancestry
Gilt.com: Swiss Legend Watches, Anti-Aging Beauty Tools & More, The Lounge Shop, Portolano Accessories, Nanette Lepore, ML Monique Lhuillier, Holiday Trend Alert: Belted Coats, Pink Tartan, Holiday Dresses Feat. Stretta, Free Shipping: Graffiti Art Featuring Banksy, Hunter Boot
Gilt Men:  Swiss Legend Watches, Original Penguin, Layering Essentials, Rugged Outerwear, Rogue Footwear, C/89, Link Up Bracelets & Cufflinks, Sweater Days Ahead, Clapham Ties, American Essentials
Gilt Children: The Coolest Toys for Boys, Fatboy Beanbags: Up to 50% Off, Our Top 10 Toys, Festive Feet: L'Amour & Angel Shoes, Nellystella for Girls: 50% Off, Victorinox Luggage
Gilt Home: Illuminate Your Style: Overhead Lighting,Time for Wine: Featuring Metrokane & Luigi Bormioli, SolSketch, Staub, Free Shipping: Graffiti Art Featuring Banksy, Victorinox Luggage, Cheap & Cheerful Pillows
JOIN GILT CITY! Don't see your city? Don't forget Groupon or any of these other sites like Groupon!
Cole Haan Women's Shoes
Cole Haan Handbags
Amrita Singh Jewelry Blowout
Cole Haan Outerwear
John Varvatos Collection
Romeo & Juliet Couture Holiday Blowout
Go Couture Tees
Graham & Spencer
Cole Haan Men's Accessories
Mr. Turk
Cole Haan Men's Shoes
Cole Haan Outerwear Men
Diamond Solitaire Collection
Jewel Tones
Amrita Singh Accessories Blowout
Cole Haan Sunglasses
Pur Minerals
Layla Nails
Nature's Shea Butter
Melissa & Doug: Last Minute Gifts
Crocs Kids
Mimi & Maggie
Addison & Banks
Entertaining Books for the Holidays
Rockabye
Entertaining and Cooking Essentials
Holiday Party Fun Pack
Blue Essence
Rufus
Vince Camuto Coat
Deerfoams
Comfy Cozy: Women
Comfy Cozy: Men
Comfy Cozy: Boots
Comfy Cozy: Scarves by Saachi
HomeSav: Red Giant, VacMan, Rug Obsessions
caroline chu cosmetics
elizabeth & james
shoes
jimmy choo
lush luxury
outerwear
yansi fugel
young by yo yo yeung
JackThreads.com: BUY 2, GET 1 FREE – hoodies
Jetsetter: Vivamarinha Hotel Portugal, Inspira Santa Marta Lisbon, Palace at Playa Grande DR, L'Auberge de Sedona Arizona
Joss&Main: WINSTON & RHODES, JILL ROSENWALD, METALLIC TOUCHES, HEIRLOOM GIFTABLES, ANNE KLEIN, SWEETS FOR SANTA, FRANCES HERRERA, WINTER REFLECTIONS
MyHabit:  SILVER BELLES: SPARKLING DETAILS FOR HOLIDAY DRESSING, ROTARY WATCHES, NATORI, FERRÉ MILANO, SUSS KNITWEAR, BELARGO JEWELRY, THOMAS SIRES, WINTER PICK-ME-UPS: HANDBAGS FROM INGE CHRISTOPHER, ACROBAT, CASWELL-MASSEY, RELIGION, GIFT LIKE A PRO: MONOGRAMMED POUCHES FROM JESSE & CO., MARK + JAMES SHOES, KASIL WORKSHOP, KSUBI, FIEL SHOES
NoMoreRack: new sales at noon 
Plndr: hello kitty watches
Brooks Brothers Men
Brooks Brothers Women
Brooks Brothers Boys & Girls
theyskens' theory
Naked Decor
Let's Toast: A Boutique Curated by Wine.com
Bring It, Winter: Sleek Men's Outerwear
Miraval Resort & Spa – Tucson, AZ
Honeydew Intimates
Lois Hill
ecru
Bern
Keep It Simple: Single-Hued Bedding & Bath
Gifty Details: Watches & Jewelry for Him & Her
FAO Schwarz
For Winter Break: Kids' Azul & Submarine Swimsuits
Just Add Water: Kids' Gifts That Make a Splash
New Balance Women's & Men's Shoes
Spread the Joy: The Women's Sale – 3PM ET
Spread the Joy: The Kids' Sale – 3PM ET
Spread the Joy: The Men's Sale – 3PM ET
ShopBop: island getaway
SniqueAway: Hull MA Nantasket Beach Resort, Marin County CA Acqua Hotel, San Diego CA Manchester Grand Hyatt San Diego
The Clymb: Timberland
TheFoundary: Cowhide & Shag Rugs – Leather, wool, cowhide, and more, Daily Deal – 11.5 in. Walnut Block Clock, Defining Designs – Furniture for modernists, Health Monitors – Heart rate watches & pedometers, Regency Glamour – High-style furniture and accents, Cartoloji – Topographical textiles & prints
TheMiniSocial: Baggu, Bambeeno, Pluie Pluie, Poppy Rose
SPANX®
Vibram FiveFingers
See Kai Run
Corky's Kids
Merkury Innovations
PackIt
R U S H By DENIS & CHARLES
I-N-S-I-G-H-T New York
Happy Trails
Disney Princesses Collection
Classique
Brought to you by Fashioninvites.com <3
Vist our Directory page for more sample sale links.
Images from ideeli