Todays listing of online sample sales: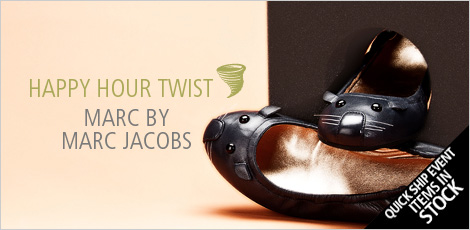 Marc by Marc Jacob's Happy Hour Twist on BeyondTheRack.
BeyondTheRack.com: Premium Watch, Missoni Scarves & Umbrellas, Springing in the Rain: Dav & More, Neutrals-Anything but basic shoes, Neutrals – Anything but basic boots, Men's Shoes by Rockadelic, Le Angelique, Glam Beauty, Charmed I'm sure, Trend Alert: Chic Extras For Spring, William Rast, One Teaspoon, Stunning in Skirts, San Diego Hats: Kids, Sinclair, Cohesive & Oxide, Breville Juicers and More, Laura Ashley Storage Design, Beautifully Organized, Get Your Beauty Sleep: Refresh For Spring, Pure Fiber, Marc by Marc Jacobs
Biva: Karl Lagerfeld, Adidas Fragrances
EditorsCloset.com: Lucien Piccard, Bcbgmaxazria Handbags, A.b.s. by Allen Schwartz
Enviius.com: Tom Ford Sunglasses, Abbyson Living
Exclusively.IN [from India w/ love!]: sher singh
Fab: Anderson Design Group – Fake ads. Really great artwork., PixelModa – A Better Way To Tell Time, Authentic Models – Explore Land, Sea and Air, Authentic Models – Reproduction Furnishings, Sobral – Resin Jewelry from Brazil, Zip Zip – Memory Brick Flash Drives, Elemental Living – Green, Modern Home Furnishings, Brondell – Innovative Bathroom Products, Beastly – Prints To Improve Your Physique, Drum Works – Mahogany Hand Drums And More, Without Label – Time to Buy the Family Jewels, Without Label – Crushing on Clutches, Without Label – Show Off That Little Waistline, Artifice Books – From Modernism to Green Design, Adam Ambro – Auto Prints With A News Peg, Elchim Hairdryers – Professional European Hairdryers

See by Chloé apparel today on Gilt.

See By Chloe SS 2012 from Benjamin Seroussi on Vimeo.
Gilt.com: Eileen Fisher, Ava & Aiden, Gold Hawk, See by Chloé, The Quilted Accessory, Carlos Falchi, What to Wear to Work: Decoded
Gilt Men: Antonio Maurizi, Luciano Brandi, Trovata, Defy Bags, Luigi Bianchi Mantova, Borgogno Duo: Dolcetto d'Alba 2010 and Barbera d'Alba 2009, GANT, GANT Rugger & GANT by Michael Bastian
Gilt Children: Under the Sea: Nautical Clothing for Kids, Playable Metal, Oh-So-Cute Baby Clothes From Minihaha, Polarn O. Pyret Spring Styles for Baby & Kids, Penelope Peapod
Gilt Home: Clean Up Your Act, Luxe Leather Seating, Living in Letters
JOIN GILT CITY! Don't see your city? Don't forget Groupon or any of these other sites like Groupon!
HauteLook.com: Oonagh by Nanette Lepore Collection, covet, Big Star, Kenneth Cole Reaction Watches, Australia Luxe Collective, Kenneth Cole Reaction Footwear, Ibiza Tailored Clothing, Madera Home Accent Furniture, Proliss, Appliances for your Space, Stone Rose, Lovina G Blowout, Sweet Sets: Petit Lem, Napoleon Perdis, Cashhimi, LAmade Kids, Donna Morgan
HomeSav: Woodard & Charles bamboo kitchenware & more, KB Furniture clutter clean up with valets & shoe & magazine racks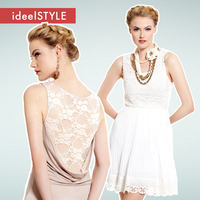 romantic notes today on ideeli.
ideeli.com: aryeh, dead sea spa care, diesel, otbt, romantic notes, tart, vava by joy han also featuring voom by joy han
IvoryTrunk: Pianegonda, Android Watches, Price Drops: Designer Jewelry, Trunk Blowout
JackThreads.com: Radii Footwear, Finishing Touches: Up To 80% Off, Brixton
Jetsetter:   The American Club – Wisconsin–Kohler, Wisconsin,   Essex Resort & Spa – Vermont–A Culinary Haven in Vermont,  Banyan Tree Hangzhou – China,  East Hampton Point – New York,  The Langham Yangtze – Shanghai,  Ventana Inn & Spa
Joss&Main: Villa Home, Design Report, Esque Studio, Berghoff, Eloise and Jake, Lands Downunder, Acc Publishing Group
Kembrel: Missoni
Modnique.com: Party Heels, Louis Vuitton Pre-Loved Handbags, Spring Brights: Jewelry Under $100, B&B Couture, Popeye Kids T-Shirts, Girls Night Out: Apparel & Accessories, Maison, Be Stylish: Accessories For Him, Spring Sparkle: Diamond Jewelry, Stuhrling Original & Steinhausen Watches, SBK Sunglasses
NoMoreRack: daily flash sales
OneKingsLane.com: Safavieh – OCCASIONAL FURNITURE, Safavieh – ACCESSORIES & LIGHTING, Safavieh – TRADITIONAL RUGS, Safavieh – DESIGNER COUTURE RUGS, Safavieh – CONTEMPORARY RUGS, Safavieh – OUTDOOR RUGS, Stone Road Vintage – ACCENTS, ART & VINTAGE FINDS, Portero Luxury – LUXURY TRAVEL ACCESSORIES & LEATHER GOODS, Kitchen Essentials – COOKWARE, CHEF'S TOOLS & TABLEWARE
Plndr: Puma, Sneaktip
RueLaLa.com:Stella McCartney Handbags, Lucky Brand, Lucky Brand Men's, Julia Knight, BCBGeneration Shoes, LIV Juice, Vince Men's, Ella Moss, Madame Alexander, Kassatex Bambini Kids' Bath, The Resort at Paws Up – Greenough, MT, Bellino Fine Linens – Starts at 3PM ET, Cuisinart – Starts at 3PM ET, Bernhardt – Starts at 3PM ET, Nourison – Starts at 3PM ET
SniqueAway[TripAdvisor's Travel Sales]: La Posada Santa Fe Santa Fe, 7-Day Cruise of Norway, Rittenhouse 1715 Philadelphia, Stanford Park Hotel Menlo Park CA
TheAisleNewYork: Cosabella Bridal
The Clymb: New Balance, Surface
TheFoundary: A and R Cashmere, Johan Eric Watches, Johan Eric Watches, Lodge Enamel, Old Hollywood
TheMiniSocial: Paulina Quintana, Entertaining Elephant, Smencils
Totsy: Carters Footwear, Oh Mamma, Peace of Cake, NFL Audio Gadgets, Grubbie Style Baby Tees, One O One, Dr Seuss Boutique, Rosalina Baby, Reading and Activity Boutique, Little Divas Accessories
Zulily[For Mom, baby & kids!]: Pool Party Boutique, Silly Goose, HOTmilk, Yoki, violet + moss Girls, Vitamins Baby, Mud Pie, Uglydoll, Ragg Shoes, !iT Jeans, Fashion Instincts, Ryu, Nathan, Hi-Tec, Sophia Visconti, Poppy Rose, Star Ride Kids, Danica and Dylan, Oh Baby London, T-Shirt Tutus, Going Glam: Girls' Outerwear, Link & Loop, violet + moss Boys, Rosenau Beck, Easter Best: Dapper Suits, Corky's Footwear, MoonJar, Chicago Metallic Bakeware, Popochos
Brought to you by Fashioninvites.com <3
Vist our Directory page for more sample sale links.
Images from ideeli, gilt, beyond the rack