I don't know about you, but being as I'm a girl and girls, ok, well most girls, like makeup I really like the deluxe samples that Sephora gives out once you obtain enough beauty perks points.
It's always fun to try out new makeup and beauty products, but in order to get just one 100-point perk sample from Sephora you need to have spent $100. What if I told you there was a really fun and much cheaper alternative?
Sample sale sites have been around for quite awhile now, we launched Fashion Invites to be your go-to source for daily flash and sample sale site deals and news back in 2009, but have you heard of members-only monthly sample boxes?
The new trend of monthly makeup subscription boxes began just last year with the startup BirchBox.

BirchBox.com was founded by Hayley Barna and Katia Beauchamp, two Harvard Business School graduates who wanted to both provide a way for companies to see just how effective samples were and to provide women (and men too) with a way to find cosmetics and other beauty products that work for them.
How BirchBox works: 
BirchBox works on a subscription based model for $10 a month BirchBox ships out small brown cardboard boxes to customers that are filled with 4-5 "deluxe" sized samples from popular cosmetics and beauty brands.
I signed up last month and here's what was in my first BirchBox for January 2012:
Zoya nailpolish in the very Spring appropriate shade Kristen, lipgloss in BirchBox signature pink by Jouer, a small perfume sample vial of Juicy Couture's Viva La Juicy, a bottle of VMV Hypoallergenics Re-Everything Eye Serum and a healthy little treat, a healthy raw food treat – the LaraBar.
For $10 a month it's worth it to join just to get a cute surprise in your mailbox each month. BirchBox also sells all of the full sized products and each month the featured products are shipped free if you decide to make a purchase.
Each month I'll be sure to let you know what I got in my monthly BirchBox.
In case you want to join BirchBox, we've got the hook up, here's you invite to BirchBox.
BirchBox isn't the only subscription-based monthly makeup club, there are a couple of others now in the US, for those of you in Canada and the UK we've got you covered too, read on.

BeautyArmy.com, in case you don't like random samples that you might not even use, for $12 a month (includes shipping) this new beauty subscription club  lets users choose up to 6 personalized samples from a list of samples available after completing a beauty profile.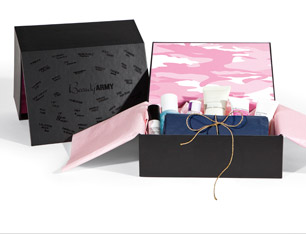 Brands include Weleda, LaRocca, Joica, Indie Lee, and others: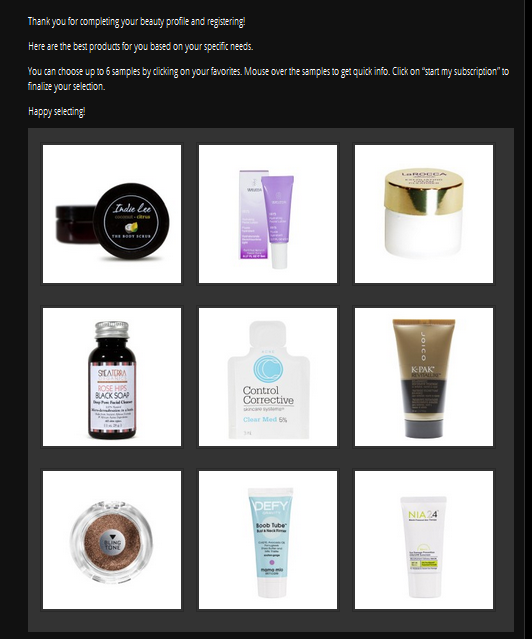 If you've ever turned to YouTube in search of makeup tips and fun tutorials it's likely you've heard of Michelle Phan. Over the past few years Michelle has grown to become a YouTube sensation,  and was even hired by Lancome to be their video makeup artist.
So far MyGlam has over 59k fans on Facebook and there is a waiting list to subscribe.
Brands include NYX, Wen, SheerCover, Freeman, Urban Decay, Tarte Cosmetics and others.

Not a monthly subscription, but worth noting  is NewBeauty TestTube™ – created by NewBeauty magazine. For $29.95 + $8.95 shipping per box four times a year you'll receive a test tube shaped box filled with a variety of beauty samples, plus NewBeauty magazine.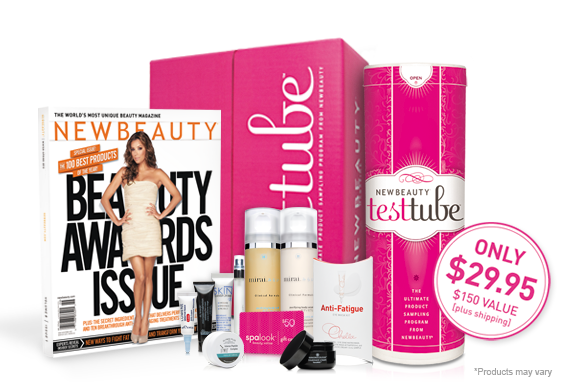 Past TestTube products have included deluxe/travel sized samples from Dr. Gross, Doris Dalton, tarte, Borghese, Pacifica, Pro Strong(R) Nail, WEN, and philosophy.


There's currently a hold on all new memberships, and we're not sure yet when they'll open it up again, but GoGoGirlfriend.com's box products look promising (at least from the photo I found on a reviewer's blog that was chocked full of goods from Weleda, a brush from Elf, Tarte lipgloss, Blum Naturals, an embroidered sleep mask, shimmery eyeshadow, pore cleaning strips, Jonathan Product, the Ginger People Go Ginger organic cleanser and more.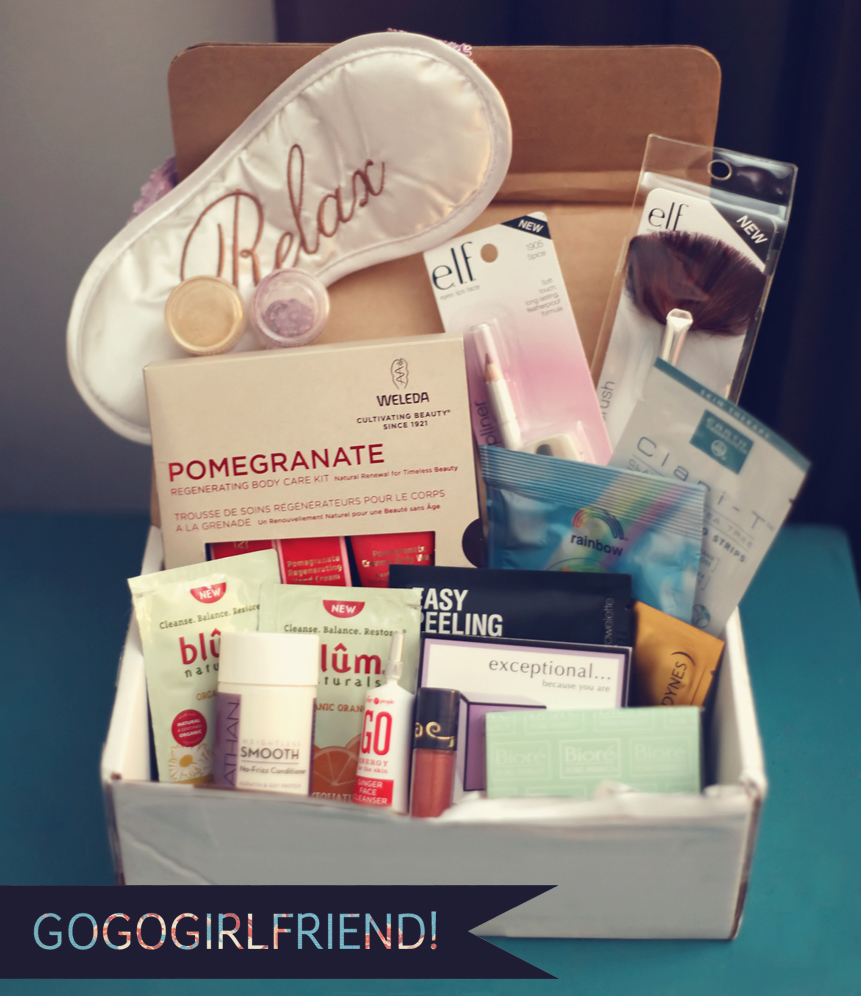 If GoGoGirlfriend re-opens membership there are two options: $6.99 a month will get you a box every two months, or $12.99 for a box each month and 5% of membership fees are claimed to be donated to the  Lynne Cohen Foundation for Ovarian Cancer Research.
GoGoGirlfriend box August 2011 photo source http://www.minipennyblog.com.

If going green is more your style the Eco-Emi box is an option for you. For $15 a month, shipped, Eco-Emi.com will include 5-10 samples of natural, organic, green, Fair Trade or eco-friendly products in "chic earth friendly packaging."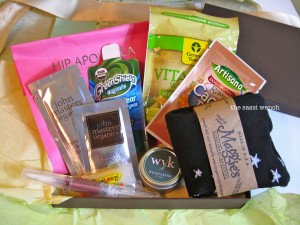 They tell us they want to provide a little bit of everything from organic brown rice to all natural perfumes, lip balms, glosses, hair care products, vitamins, herbal teas and vegan chocolates.
-Eco-Emi box December 2011, Photo source  sassiwench.blogspot.com.
Not in the US but want to get in on the monthly skin care and cosmetic sampling frenzy? There are sites for you too!
Beauty & cosmetics brands have included Gucci, Caudalie, Butter London, blinc, sara happ and Rahua and I must say the box is quite charming.
For  £10 per month you'll receive 5 product miniatures. Past brands have included Deborah Lippman and OPI nailpolish, Jurlique, BioNova, Clarins, Weleda, Orly, Murad, Kiehls, Laura Mercier and more.
I think this trend will be here to stay for quite some time and you can be sure we'll see more subscription box sites this year!
Stay tuned to FashionInvites.com for our box photos and new monthly makeup box site openings!