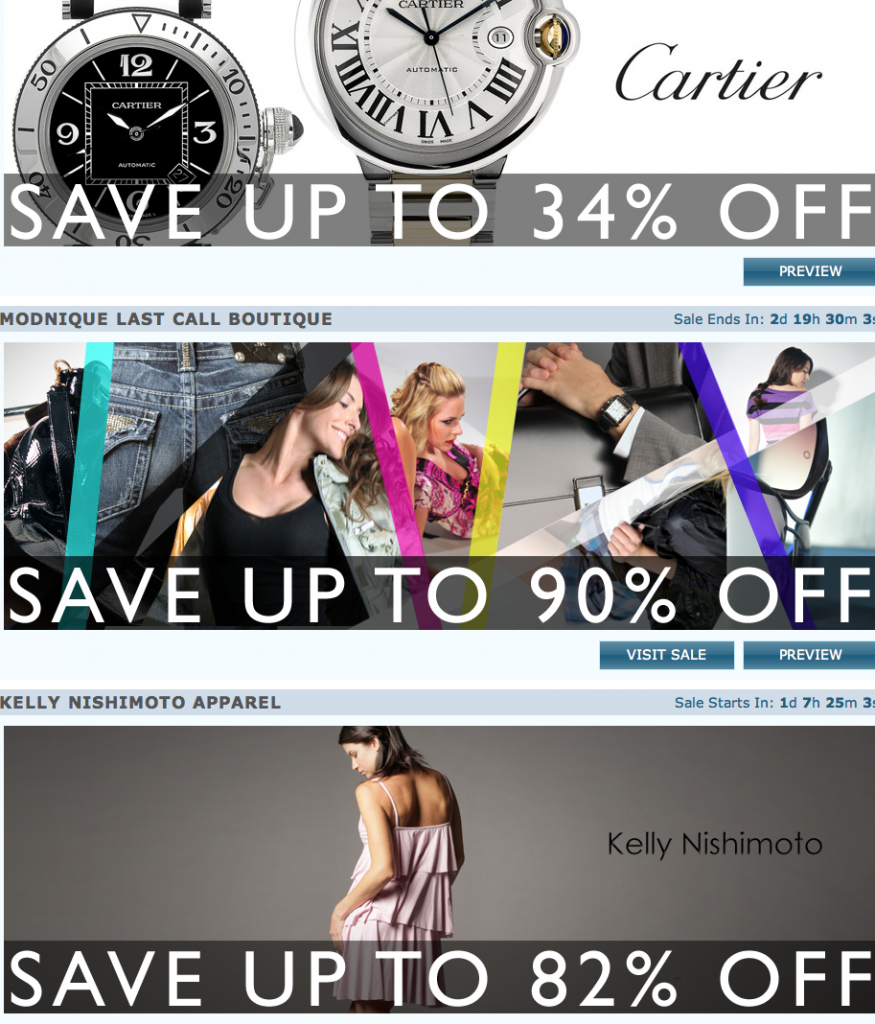 I'm just so excited to introduce you to the new fabulous invite-only, online sample sale site Modnique! I took a quick look at the Whois info and discovered that the registrar's e-mail address was @ bidz.com and sure enough, Bidz.com is the owner of Modnique.com.
From the press release: "Bidz.com Announces the Grand Opening of Modnique — an Exclusive Private Sale Shopping Site CULVER CITY, Calif., Feb 4, 2010 (GlobeNewswire via COMTEX News Network) — Bidz.com, (Nasdaq:BIDZ), a leading online retailer of jewelry, announced today the launch of Modnique (Modnique.com), a division of Bidz.com. Modnique is an exclusive private sale shopping site for members-only, offering authentic premium brand name merchandise. Modnique offers its members exclusive access to 24-72 hour sales events on designer apparel, accessories, shoes, and houseware and much more at price points up to 85% off of retail. The first sales event featuring Ed Hardy men's and women's apparel is scheduled for Monday, February 8, at 8:00 AM PST. Ed Hardy, by Christian Audigier, is the leading specialty retailer of street couture fashion. With 30 boutiques worldwide and a strong presence throughout the leading department store across the nation, Ed Hardy provides unique tattoo-inspired fashion and lifestyle apparel for men, women and children."
Maybe you haven't heard of bidz.com, bidz is an online jewelry auction site, I've gotten some pretty nice jewelry pieces, a pearl necklace, pretty amethyst and jade earrings, sparkly cubic circonia bracelets,  from Bidz quite cheaply.
Modnique has an awesome tiered invite system:

Members of Modnique can earn a $15 credit when a friend makes a purchases, and $10 when a friend of your friend makes a purchase and even $5 when a friend of your friend's friend makes a purchase. Exciting, huh?
The Scoop
1. What is Modnique.com?

Modnique.com is an online private sale retailer of designer merchandise and services at highly discounted prices.
Modnique is a members' only site that requires invites from friends to access the sales events.
Members save up to 85% buying products from well-known brands such as Ed Hardy, ST Dupont, Maurice Lacroix, and others.
All items sold on Modnique.com are 100% brand new and authentic. We standby this guarantee.
All items sold on the site are sold by Modnique.com and not individual sellers.

2. How does Modnique.com work?

Modnique.com is a private sale site that requires invites from existing members to participate.

Modnique offers short duration (36-72 hours) sale events of specific brands, such as Ed Hardy, ST Dupont, Maurice Lacroix, and others, to its members.

Customers can save up to 85% and sometimes more while purchasing authentic and brand new items.
Sales on Modnique starting today: Krementz Jewelry at 85%, Cartier Watches at up to 34% off, the Modnique Last Call Boutique including Geisha & Crane jackets (87% off), Montblanc sunglasses at 80% off and more!
Have a PayPal account full of money and/or  just don't want to use your credit card?
Modnique accepts PayPal!
Get your invite to Modnique
Let us know about your experiences with Modnique.com!